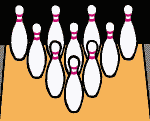 Coeur d'Alene, Idaho Bowling Yearbook
Serving the local bowlers of the greater Coeur d'Alene area
Website Director: Anthony Campos, PhD
WHY BOWL IN A LEAGUE?
Money and the satisfaction of winning represent the motivational forces of the professional bowler. We folks at the bowling league level may not be able to make a living from bowling, but we do share the motivation of winning in team competition. The beauty of this sport is that almost anyone can participate no matter what your skill level may be by the use of handicap points. Even a low average bowler will strive to make that big game, and it could be a record score. Being in a bowling league allows you the chance to enjoy the game as may be suitable to you. You can be as serious about the game as you feel you should be to suit your own personality without criticism. Of course, there will always be that exciting hope that something extraordinary will happen and that your score will be recognized by the USBC.
It is unfortunate that bowling has lost so much popularity over the last thirty years. I believe that this sport has not been properly promoted in the face of other activities such as watching TV, concern over work and finances, and the mental syndrome of feeling too tired or simply falling into the malaise of being home lazy. Bowling is physical and mental, and it allows you to get a break from all those work related problems that will give you a heart attack. Get out there and shoot that ball for all it's worth, and enjoy being with other folks in friendly competition.
A SIMPLE ANALYSIS: WHAT IS GOOD BOWLING
What is the logic for bowling averages either going way up or going way down? One could say that either skills have deteriorated or that skills have suddenly improved. Or, perhaps skills never really changed. Instead, lane conditions changed. Averages may drop when easy house shots become more difficult. When this occurs, the average bowler who has been averaging 200 and above will most often form an invalid analysis to explain a significant drop in average.
The problem that should be addressed is not that conditions have become difficult. The main problem is that the average bowler has become more complacent in hitting a target on the lane as well as using a ball that is not conducive to the lane conditions. Sloppy shooting does not prove good skills despite a high book average. This reality will be proven when a bowler enters a PBA setting. I have bowled as a guest in minor PBA sanctioned tournaments in California, and I can testify that one will be in for a shock if you cannot hit a three board target range with the proper ball on either and inside or outside shot. Furthermore, the ball release must be consistent.
A major problem is that people begin to quit when averages go down due to lane conditions. It depends on what you desire from the game. Is it just for social fun? Are you more serious about the game? Are you willing to focus on the challenge of more difficult lane conditions? It should be fun to accept the challenge and know what is involved. In conclusion, bowling on more difficult lanes will make you a better bowler, at least according to my very simple analysis.
Easy lane conditions will produce inflated averages. That is the reality of it all. Your only true average would be many games shot over all types of sanctioned oil patterns. We must realize that most league bowlers are not professionals. What can you expect if you only shoot three games per week?
Leaving one house to go to another simply because of getting an easy house shot is not the way to become a better bowler. The solution is to become more accurate with the proper ball and with an effective hand release. This advice is for the more serious bowler who has some form of comprehension about the game. If you settle with just throwing a sloppy ball, buying a new ball is not going to change anything. After all, it may be okay to just enjoy the social life. If you truly love the game, you will take on the challenge of more difficult lanes. In the end, you will be more proud of your achievements. (Tony Campos)

Local Bowling Alleys: Sunset Bowling Center (Coeur d'Alene) and River City Lanes (Post Falls)
Bowlers moving to CDA from other areas can expect these two bowling centers to be outstanding.